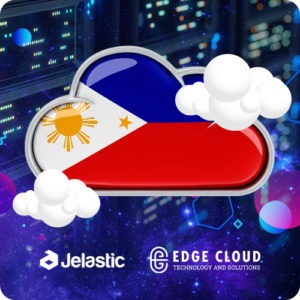 Edge Cloud Technology and Solutions, a 100% Filipino owned cloud provider company announces the launch of Edge Cloud PaaS, powered by Jelastic. This new cloud hosting service is designed for developers and customers that uses advanced automation to ensure trouble free operation of web sites and applications.
The Edge Cloud PaaS is a "next generation" cloud hosting service that is designed for developers and is rock solid for production. It runs on a very high-performance infrastructure, using 100% SSD storage, in ePLDT Vitro Data Center.
"Seeing a lot of great platforms out there, we have decided to partner with Jelastic. Jelastic, being the first one to combine Unlimited PaaS and CaaS into one solution, which provides the latest state-of-the-art universal platform and peace-of-mind applications. Our customers will have an option with a faster and proven PaaS platform on top of a resilient infrastructure," Dexter Negado, Co-Founder of Edge Cloud.
From now on, developers and customers can easily create, test and run their projects in production with an advanced and user-friendly cloud UI platform. This provides flexibility in terms of technology (Java, PHP, Node.js, Ruby, Python, .NET, Go, Docker, Kubernetes), project types (cloud-native and legacy, microservices and monoliths), scaling (vertical and horizontal on container and infrastructure level), automation (built-in tools and open API for extra integrations), and cost-effective pricing (pay per use model based on consumption).
"The Philippine IT industry is booming and thus local companies require advanced DevOps tools to be efficient and stay ahead of competitors. Jelastic PaaS facilitates development process, accelerates time-to-market and cuts cloud hosting expenses, so it becomes a perfect choice for various outsourcing tech companies, digital agencies and software vendors. Our partnership with Edge Cloud makes this exquisite cloud platform available right in the heart of Philippines meeting its regulations and providing high-quality local support." Ruslan Synytsky, Jelastic CEO and co-founder.
A powerful feature of the service is automatic scaling, which ensures smooth operation of the web site during changes in usage. In the Jelastic Dashboard, developers can set a minimum reserved, and a maximum dynamic allocation of resources. Dynamic resources are scaled up and down to meet changes in demand, with no downtime.
The "pay for what you use" billing model charges customers only for the CPU and RAM needed to meet demand. With autoscaling, customers do not have to buy a server large enough to handle possible load peaks. Disk storage billing is also based on actual usage rather than a predetermined expected maximum required disk size.
"The market interest in the PaaS industry is growing steadily here in the Philippines. Our intention is to provide local developers and companies with the efficient world-class cloud technology from a fully Filipino owned and run company, giving more freedom of choice instead of locking-in to cloud giants," Darwin Cabiluna, Technical Director of Edge Cloud.
Edge Cloud PaaS provides 14 Days FREE TRIAL for all developers and customers from the Philippines with no obligations or whatsoever.
For any enquiries, you can reach EDGE CLOUD via email at office@egecloud.com.ph or visit www.edgecloud.com.ph for additional information.